The General Assembly is the highest authority of the network and it has the power to take decision concerning all the activities of the network. The Assembly, held once a year either in Sweden or Italy, is chaired by the chair of the Executive Board. 
Thursday 11 May
Friday 12 May
Thursday 11 May
Thursday 11 May 2023
08.30: Registration opens
09. 00: Opening of the GA 2023
9.15-11.00: Upskilling in school education through international mobility – parallel sessions
The programme Erasmus+ offers an important opportunity to bring positive and long-lasting effects on primary and secondary school staff, Early Childhood Education and Care staff and pedagogical coordinators: the learning mobility of individuals. The variety of mobility activities, such as job-shadowing and participation in structured training courses, have the main objective to improve competences, to increase capacity to trigger changes in term of international opening within their educational organisation while fostering a better quality of teachers' work with children and pupils.
The seminar will focus on successful strategies to effectively carry out different types of mobility activities abroad, also thanks to the testimonies and feedback from numerous SERN members who have actively participated in this activity.
UPSKILLING OF PRESCHOOL STAFF THROUGH INTERNATIONAL MOBILITY
UPSKILLING OF STUDENTS AND STAFF THROUGH INTERNATIONAL MOBILITY – DEEDS PROJECT MULTIPLIER EVENT
9.15 – 11.00: LOCAL GREEN DEALS – City planning and climate adaptation
City planning and climate adaptation are essential for creating more sustainable and resilient cities in the face of climate change. Local green deals can be a powerful tool for achieving these goals by promoting sustainable development, reducing greenhouse gas emissions, and increasing resilience to climate impacts. Through case studies/best practices, and group discussions, participants will gain a better understanding of the key strategies and principles involved in developing successful local green deals, and how to engage with communities and stakeholders to create lasting change.
Speakers:
11.15-13.00: Promoting Digital Inclusion for Marginalised Groups – session 1
The seminar aims to explore the challenges and opportunities of ensuring that marginalised groups have equal access to digital technologies and services provided by public administrations.
The seminar focuses on best practices already implemented by SERN members and Cypriot organisations in the framework of the Digital Trainers Project. Participants will be provided with practical examples and knowledge to promote new strategies in their community, contributing to a more equitable and inclusive society.
Presentations:
11.00-13.00: Internationalising Schools with Erasmus+ – BE+ multiplier event
The workshop is designed to provide practical guidance and support to schools looking to boost their international dimension. This workshop aims to provide participants with the knowledge and tools to develop a successful international strategy and take full advantage of the opportunities provided by the Erasmus+ Programme. By the end of the workshop, participants will have a better understanding of the key steps to develop an international strategy in schools/preschools and how to apply for and participate in Erasmus+ projects, thanks to the tools developed by the BE+ project.
Speakers:
11.00-13.00: Local Green Deals – Planning Local Food System
There is a pressing need to increase awareness of local and regional authorities, and other stakeholders about the potential of food and urban food systems in climate change adaptation and mitigation. The food value chain is strongly affected by the activities and policies of local public actors across its different stages: primary production, agro-food processing, distribution & retail, consumption and waste management. The seminar will provide an opportunity for reflection and discussions about how municipal departments can play a key role both as a stakeholder and driver through coordinated action.
Speakers:
14.00-17.00: Study Visit – Education (Cervia)
Participants will visit schools of different grades. Among them, is the Buonarroti Primary School, where it is possible to visit the didactic garden and where Pacifico, a small ginkgo biloba born from the seeds of a tree that survived the dropping of the atomic bomb on Hiroshima, is located. It is the only Italian school that is carrying out meetings between pupils and bomb survivors and won a prize in the Comuni Fioriti competition in 2021. Participants also have the opportunity to attend the closing presentation of the activities of the Girls' and Boys' Municipal Council (Lower Middle School) in the Municipal Council Hall.

14.00-17.00: Study Visit – Green & Sustainability (Cervia)
The visit will focus on a series of interventions related to urban regeneration and climate change adaptation actions, which are closely linked to the guiding planning tools. Participants will visit the urban regeneration project of Piazza Premi Nobel in Pinarella and climate walks implemented thanks to the Adriadapt Ita-Cro project; the new Milano Marittima promenade, viale Matteotti and the rain gardens.

14.00-17.00: Study Visit – Digital Inclusion (Ravenna)
The Municipality of Ravenna has carried out an Urban Innovative Action, the DARE project: a highly innovative urban project in the field of Digital transition. DARE started-up a new approach to urban regeneration based on digital participatory tools, and digital storytelling, in order to accelerate the regeneration of the Darsena district, based on a multi-stakeholder collaborative platform. During the study visit we plan to show the participants the fascinating neighbourhood of the Darsena, and explain the participation activities carried out and the DARE project results. Moreover participants will be directly involved in the youth participation activity with teenagers and youth, that have started -up and are implementing a podcasting platform based on inclusion and multiculturalism.
17.30 – 18.30: SERN Executive Board
18.00 – 19.00: Networking Aperitif
The Secretariat will organise a "networking aperitif", a moment opens to all organisations with discussions on topics of common interest from which to gather inputs for future projects and collaborations among members. The session will be held in an informal context, with small groups discussing around possible future proposals. The networking aperitif will begin with presentations of project ideas from participants, then each project idea will be assigned a table where the discussion will continue more in depth. The participants can decide to present a project idea that they want to discuss with other organizations or join a table with the topic of their interest.
Friday 12 May
Previous sessionS of the General Assemblies
GA 2022
GA 2021
GA 2020
GA 2019
GA 2018
GA 2017
GA 2016
GA 2015
GA 2014
GA 2013
GA 2022
GENERAL ASSEMBLY 2022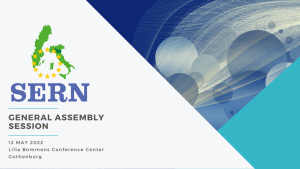 Wednesday 11 May 2022
9.15-11.30: Seminar: "Sustainable mobility through public service in low demand areas" 
The main question addressed by the seminar will be how to identify new solution to facilitate mobility to/from many small villages in rural and mountain areas. They are far from larger urban big centres and it is difficult to manage a public transportation service, as they are low demand areas and a regular public transport service can be difficult to sustain in the long run from an economical point of view. What kind of alternatives can be promoted and implemented in order to provide an alternative mean of transport to people who cannot use individual cars such as students and old people?
Speakers:
Moderator:
Marco Taccagni, 

Councillor – Province of Parma
10.30 – 12.45: Seminar on youth participation and local democracy 
The Covid-19 pandemic affected negatively young people and their participation within the society. The dialogue with public authorities, education institutions and youth associations is vital to re-establish a positive outlook for European young people and to improve their civic involvement, their participation in the democratic life and their engagement in the political and social framework. Reinforce democratic awareness and develop participation are two major aims for European societies to help young people to become active and engaged citizens and realise a sustainable democracy. The seminar focuses on possible actions to be taken in a post-pandemic framework to reach a complete and inclusive participation of young people in the society and to promote opportunities to let them become actors of change. This topic is strictly linked to the aims of the European Commission when proposed 2022 as Year of Youth.
11.30-12.30: Presentation of the SERN Training Activities 2022 with focus on how to use the SERN Members' Area 
The SERN Strategy 21-27 has identified capacity building in the network as one of the key elements upon which constructing and developing further cooperation among the members. The SERN Secretariat has therefore developed a set of training activities reflecting and building on the needs identified and expressed by and among the members over the years in relation to different aspects of the project-based activities. The proposed courses will address project design and planning, project management and activities that will enhance the capacity of the member to become active actors in the context of SERN and therefore enhance the capacity to take advantage of the membership of your organisation.
It will be also provided an overview on the SERN Members' Area on Microsoft Teams, the online main tool through which information is shared and circulated within the Network.
11.30-12.30: Presentation of results of ongoing and recently completed projects 
DEEDS – Modelling a European cross-curricular study programme for upper secondary schools (2020-2023)
The project aims to promote a new model of collaboration between upper secondary schools based on study abroad activities for both short and long-term mobility periods for students.
Gunilla Linder, Principal – Folkungaskolan Linköping

Nicola Catellani – Network Coordinator – SERN
NARRATE – Building a narrative approach fostering collaboration between preschools and libraries
The project aims to foster quality in preschool developing the narrative approach and improving the collaboration between preschools and libraries.
Daniele Chitti, Director of Education Services – Imola Municipality

Laura avanzi, Project Officer – SERN Secretariat
13.45-16.45: Study Visit – Passalen
Passalen is a non- profit association working to develop new solutions to create inclusion for children and young people with disabilities. The association is established in Gothenburg, Mölndal, Kungsbacka, North Stockholm and Haninge. The aim of Passalen is to carry out activities that are accessible and self-chosen in the company of others fostering participation as well as activities that generates self-confidence and self- esteem. For example, Passalen carries out activities such as a sailing camp in the beginning of the summer and numerous opportunities to meet during the easter holidays.
14.00 – 15.30: Showcasing sustainable tourism strategies in Sweden
16.45 – 18.15: SERN EXECUTIVE BOARD
Thursday 12 May 2022
09.00-11.00: Discussion-based Workshop: "Coping with emergency and uncertainty in local pre-school and school systems" 
We were surprised by the arrival of the pandemic in 2020; each country reacted in different way, but the common elements that have been emerging in both countries indicate was that we were not ready, not only because we weren't able to anticipate such a situation, but because our school system didn't have a model to cope with emergencies and uncertainties. What have we learnt in the last two years that could be turned into a model to be applied locally for future unexpected emergencies, even different from a pandemic? How could we change the management and the equipment/facilities of the preschool and school system in order to be more resilient in facing emergencies?
Introductory remarks:
Erik Östman, Chairman of the City Council Committee for Youth and Children – Linköping Municipality (presentation)
Daniele Chitti, Director of educational services – Imola Municipality (presentation)
Seminar on digital innovation and digitalization strategies in local authorities 
The seminar will be aimed at addressing the way in which local authorities address the challenges linked to digital transformation in the local context. The main focus will be on the strategies and plans adopted to implement them effectively. Key questions addressed will pertain the main challenges that have been emerging inside the organisations as well as externally such as the engagement strategies towards citizens.
Speakers:
11-00-12.00: Training activities: "How to read an EU call" 
The course, part of the set of training activities offered by the SERN Secretariat, provides an introduction on how to identify and interpret the different elements present in a EU call for proposals from some of the most relevant Programmes for SERN members. The course will also guide the participants through the use of the Tenders and Funding portal of the European Union.
Speaker:
Seminar "Sustainable energy policies at local level" 
The seminar will look at how local and regional authorities are increasingly becoming important players as drivers of energy policy processes. On the one hand, such processes are aimed at fostering sustainable solutions and energy saving practices among their citizens. On the other hand, local authorities have to ensure their public services and therefore need to adopt policies themselves aimed at ensuring a more effective and sustainable local public spending related to energy consumption.
Speakers:
Patrik Dokken, Energy and Climate Advisor – Trollhättan and Vänersborg Municipality (presentation)
Mats Bjälkholm, Director, Energikontor Väst (presentation)
Ivano Dinapoli, Funding and EU Policies Unit, Parma Municipality (presentation)
Moderator:
Jan Owe-Larsson, Region Östergötland
13.30-15.30: PARTNERING CAFE'
The Secretariat will organise a "networking café", a moment opens to all organisations where inputs for new projects will be shared in an informal context with the objective of initiating discussion around possible future proposals. The networking café will begin with presentations of project ideas from participants, then each project idea will be assigned a table where the discussion will continue more in depth. The participants can decide to present a project idea that they want to discuss with other organizations or join a table with the topic of their interest.
13.30-15.30: Presentation of results of ongoing and recently completed projects
TRANSIT – Training paths for adults on sustainable mobility (2021-2023)
The project aims at raising awareness about sustainable mobility through the development of informal training paths by stressing the importance of using more sustainable means of transportations.
BRAND-EU – Acquiring place branding competences at work through continuing VET to increase the attractiveness of European cities (2018-2021)
The project aimed at raising the attractiveness of European cities through the exchange of best practices on the place branding strategies designed and implemented by in order to create more favourable condition for local development.
Ginevra Roli, Project Officer – SERN

Ronny Svensson, Development Officer, Orust Municipality 
PART-HER – European network for a participated valorisation of cultural heritage (2019-2021)
The project contributed to the development of a participated approach to cultural heritage at European level fostering the role of citizens in choosing the tangible and intangible cultural heritage of their territory
Laura Avanzi, Project Officer – SERN
DEHORS – Developing innovative learning context in pre-schools' outdoors spaces (2018-2021):
The project focused on the improvement of pre-school quality developing and enhancing knowledge about the design and planning of learning environments outdoor.
15.30-17.30: SERN GENERAL ASSEMBLY
I. Call to order
II. Opening of the Session and approval of the order of business
III. Approval of the minutes of the 2021 session
IV. SERN Annual Report 2021
V. Financial Report 2021
VI. Report of the Board of Auditors 2021
VII. Budget Proposal 2022
VIII. Venue of the 2023 Session
IX. Adjournment and closing of the Session
GA 2021
GA 2020
GA 2019
GA 2018
GA 2017
GA 2016
GA 2015
GA 2014
GA 2013